THE KABUTE FARM'S DELICIOUS YET GUILTLESS MUSHROOM SISIG [REVIEW]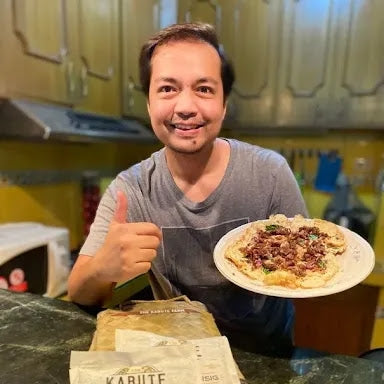 Here's my review of The Kabute Farm's Mushroom Sisig plus a simple omelet recipe that's family-friendly.
The Kabute Farm's Mushroom Sisig is incredibly delicious and tastes exactly like regular pork sisig. The big difference between the two is that The Kabute Farm's Mushroom sisig is guilt-free because it's meatless and made out of organic oyster mushroom.
Depending on how you want your mushroom sisig served, you can either just heat it for a slightly chewy texture like fatty pork sisig or you can fry it to a crisp if you want it crunchy. You can even serve The Kabute Farm's Mushroom Sisig on a sizzling plate to complete the experience.
What is sisig?
To those who are unfamiliar with sisig, it's a dish that originated from the province of Pampanga in the Philippines. It's made by grilling a pig's cheeks, ears, and belly. 
The grilled pork parts are then chopped, mixed with grilled chicken liver, and seasoned with simple ingredients like calamansi (Philippine lime), onions, red chilies, and liquid seasoning. Sisig is usually served on a sizzling plate and either eaten with rice or with beer.
Despite the simplicity of this dish, pork sisig is very flavorful because of the fatty parts used. Even the late celebrity chef and TV host Anthony Bourdain said that "sisig is perfectly positioned to win the hearts and minds of the world as a whole."
Pork sisig is one of my most favorite Filipino food
I love sisig. In fact, since tasting pork sisig for the first time during my college years, I instantly fell in love with it as well as its other variants like lechon sisig, tuna sisig, squid sisig, bangus sisig, and even tofu sisig. I like the combination of fatty pork bits, chicken liver, onions, and chilies.
While it's undeniably great with beer, I like to eat pork sisig with rice. As I grew older though, I began to be conscious of what I eat but I do give in to pork sisig from time to time. However, I still wished that there would be a healthier alternative to pork sisig.
Quite impossible, I thought at first because, well, meat is really difficult to replicate. it's even more far-fetched if you think of a vegetarian-friendly sisig, which is an unlikely combination. Just the same, I thought that mushroom could be a close alternative to pork because of the former's savory notes or umami taste.
That's exactly the reason why I was intrigued by The Kabute Farm's Mushroom Sisig when I saw it in my social media feed. I had to try it, I told myself, so I was glad when the brand reached out to me for me to sample its mushroom sisig.
What I liked in The Kabute Farm's Mushroom Sisig
I do love supporting local businesses, especially the innovative ones that offer products of excellent quality. The Kabute Farm made quite a good impression on me when I saw how good its packaging is. Of course, the true test would come when we get to taste the mushroom sisig so I cooked a pack right away.
I toasted the mushroom sisig a little because I like it that way. It smelled really delicious when I was cooking it. It had onions and green chilies, just like regular sisig. When it was cooked, I excitedly put a spoonful of it in my mouth and I wasn't disappointed. It had all the flavors I was looking for in sisig! My family also loved it.
On a different occasion, I cooked The Kabute Farm's Mushroom Sisig without toasting it and it was still delightful to eat. It had a meat-like quality that would appeal even to meat lovers.
Some of the things that Filipinos will love about The Kabute Farm is that it's all-natural, MSG-free, preservative-free, cholesterol-free, lard-free, and non-GMO.
It uses vegetable oil so it's vegetarian-friendly. It's not vegan-friendly though because it has a small amount of egg in it. Because The Kabute Farm's Mushroom Sisig is wholesome, we were confident in having our kids try it.
The Kabute Farm's Mushroom Sisig Omelet
There are many sisig recipes that you can try but they are mostly meat-based. If you are looking for a vegetarian-friendly sisig recipe, then here is a simple mushroom sisig omelet that I made for breakfast.
You'll need a 300-gram pack of The Kabute Farm's Mushroom Sisig, 3 eggs, a medium-sized red onion, two cloves of garlic, and basil or chili leaves.
The onion, garlic, and basil or chili leaves are all optional.
For the kitchen equipment, you will need a frying pan, a spatula, a bowl, and a fork.
If the mushroom sisig is frozen, you can either thaw it in the microwave or put it directly into the frying pan over low heat. I like putting it directly into the pan because it's faster that way.
You also don't need to add oil because the mushroom sisig already has oil. When the mushroom sisig has fully defrosted, you can add the chopped garlic and onion. Cook the mushroom sisig, remove from heat and set aside. Don't remove the oil from the pan.
Beat the three eggs and add half of the mushroom sisig to it. Cook the omelet in the frying pan then add the basil or chili leaves on top. Transfer the omelet to a plate and top with the remaining half of the mushroom sisig. Serve and enjoy!
This is a kid-friendly version so I didn't add black pepper. No need to add salt, too.
The Kabute Farm is made of healthy oyster mushroom
The Kabute Farm is made of
oyster mushroom
which is high in nutrients like niacin, Vitamin B5, folate, choline, potassium, iron, phosphorus, and zinc. Furthermore, the oyster mushroom is rich in antioxidants.
Where to buy The Kabute Farm's Mushroom Sisig
You can only buy The Kabute Farm's Mushroom Sisig online through its website or through Shopee. It's not yet available in supermarkets and grocery stores.
Epilogue
The Kabute Farm's Mushroom Sisig tastes like regular pork sisig but it's a lot better than the latter because it's made of wholesome ingredients. You can have it as is and cooked the way you like it or use it in simple recipes that the whole family will enjoy.
With The Kabute Farm's Mushroom Sisig, you can go ahead and enjoy sisig without guilt. Collection 2019 Sale 70% Off Title for image